REGISTRATION FOR SPRING 2021 SEASON OPENS NOV 1ST, 2020!!


Email was sent out on April 20, 2020.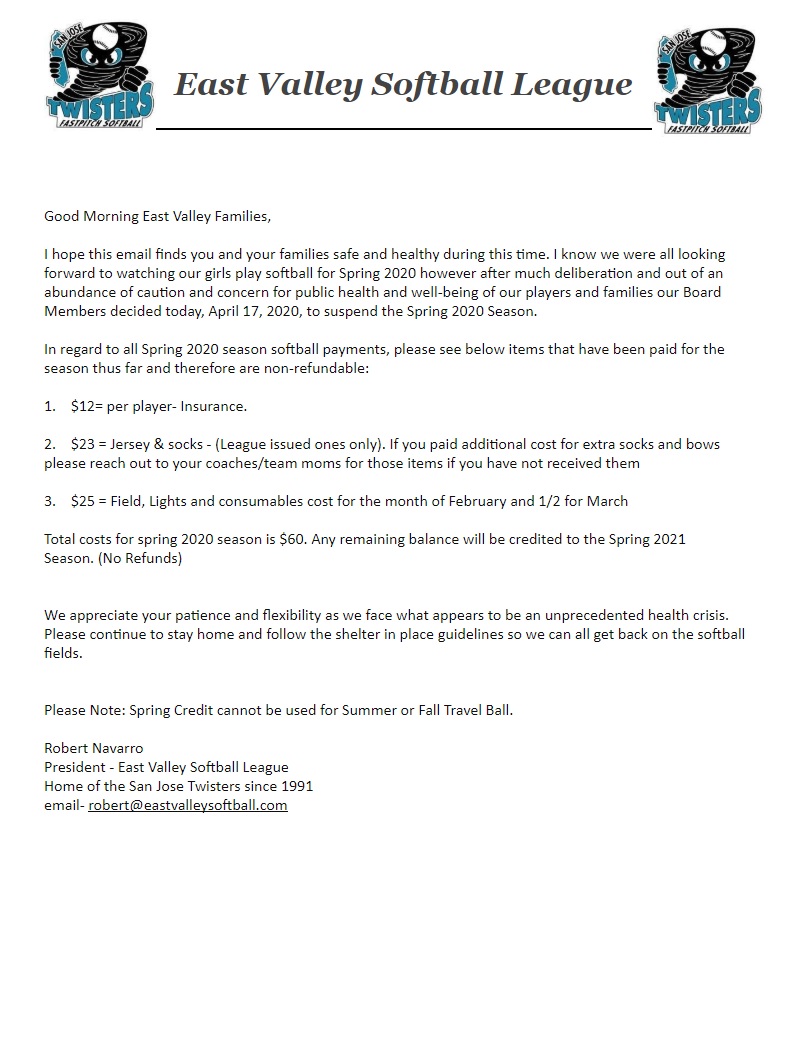 Important Message- March 22, 2020
Happy Sunday Funday EVSL Softball Families;

We hope everyone is Safe and Healthy in this time of uncertainty. As we try to flatten the curve of the COVID-19 in our community, we are aware that it could be longer than expected before we are allowed to swing into our spring season. We just want to assure everyone that we are still gearing up to have a season and are preparing for teams to have multiple games per week, if necessary. In the meantime, although we are not currently allowed to have any team practices, EVSL encourages our players to practice on their own with a parent or sibling. As soon as we get the word that practices can resume we will inform all coaches/teams. We look forward to seeing everyone on the softball fields as soon as this Shelter-In-Place is lifted.

Stay healthy,
East Valley Board Members





Important Message- March 12, 2020
Effective immediately, East Valley Softball will be suspending all league activities through APRIL 3, 2020 - this includes all practices, games, and board meetings - due to the impact of the Coronavirus Disease 2019 (COVID-19) and the continuing escalation in our community. We believe it is in the best interest of our families, in an abundance of caution, to exceed the recommendations of the County of Santa Clara Public Health Department to help slow the spread of COVID-19. During this time period we will work diligently to gather the most current, and accurate information to ensure the highest level of safety for our players and families. Prior to March 23rd, and/or prior to resuming league activities I will send further correspondence.
We encourage players and their families to follow increased hygiene, such as:
Washing their hands often with soap and water for at least 20 seconds
If soap and water are not available, alcohol-based hand sanitizer can be used in a pinch
Avoid close contact with other people
Avoid touching your eyes, nose, and mouth
Covering their cough or sneeze with a tissue - if available - or into their elbow
Always have hand sanitizer or wipes available for your players
Thank you for your support and understanding. Stay healthy everyone!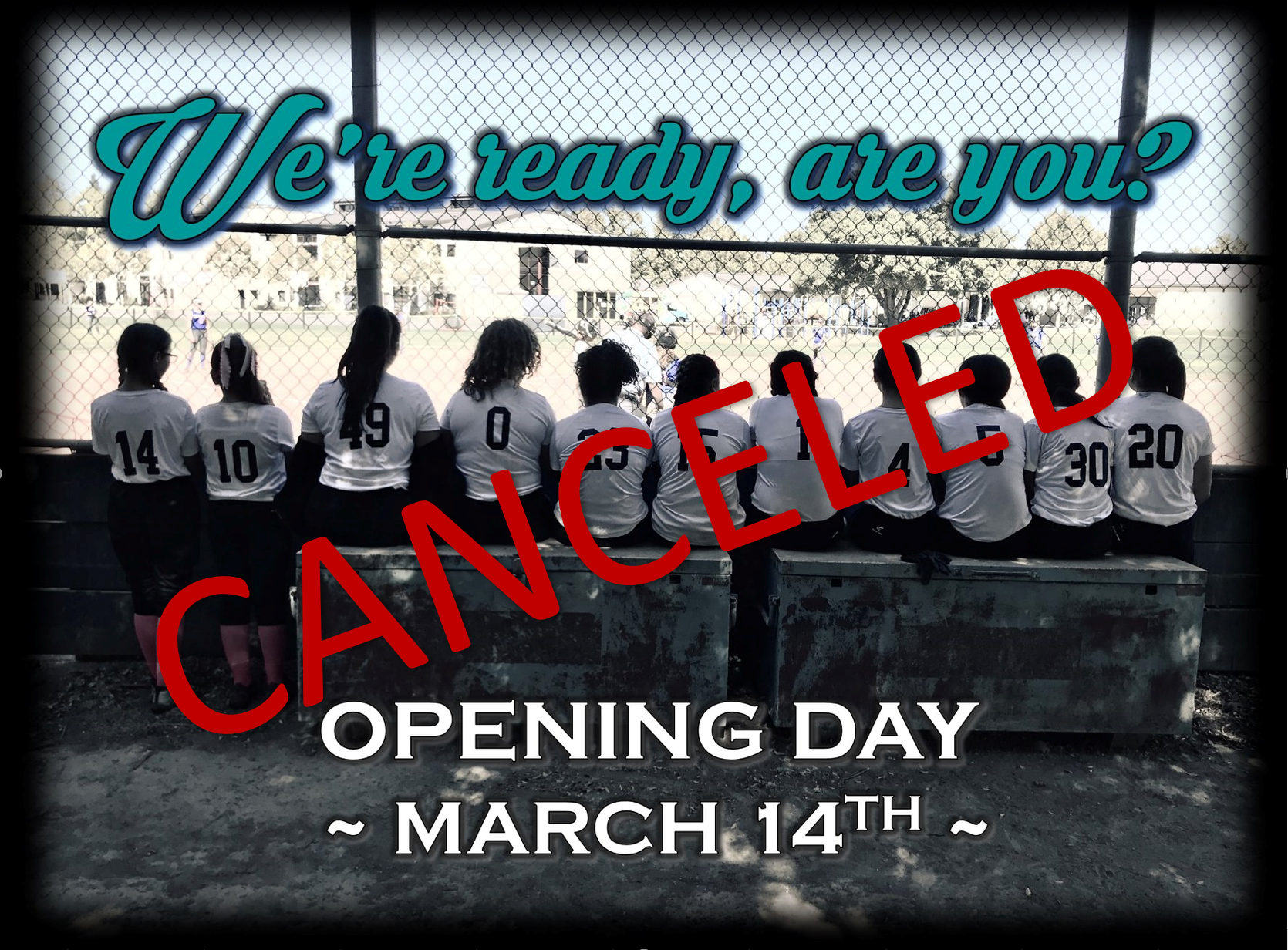 East Valley Classic Car show Fundraiser 2020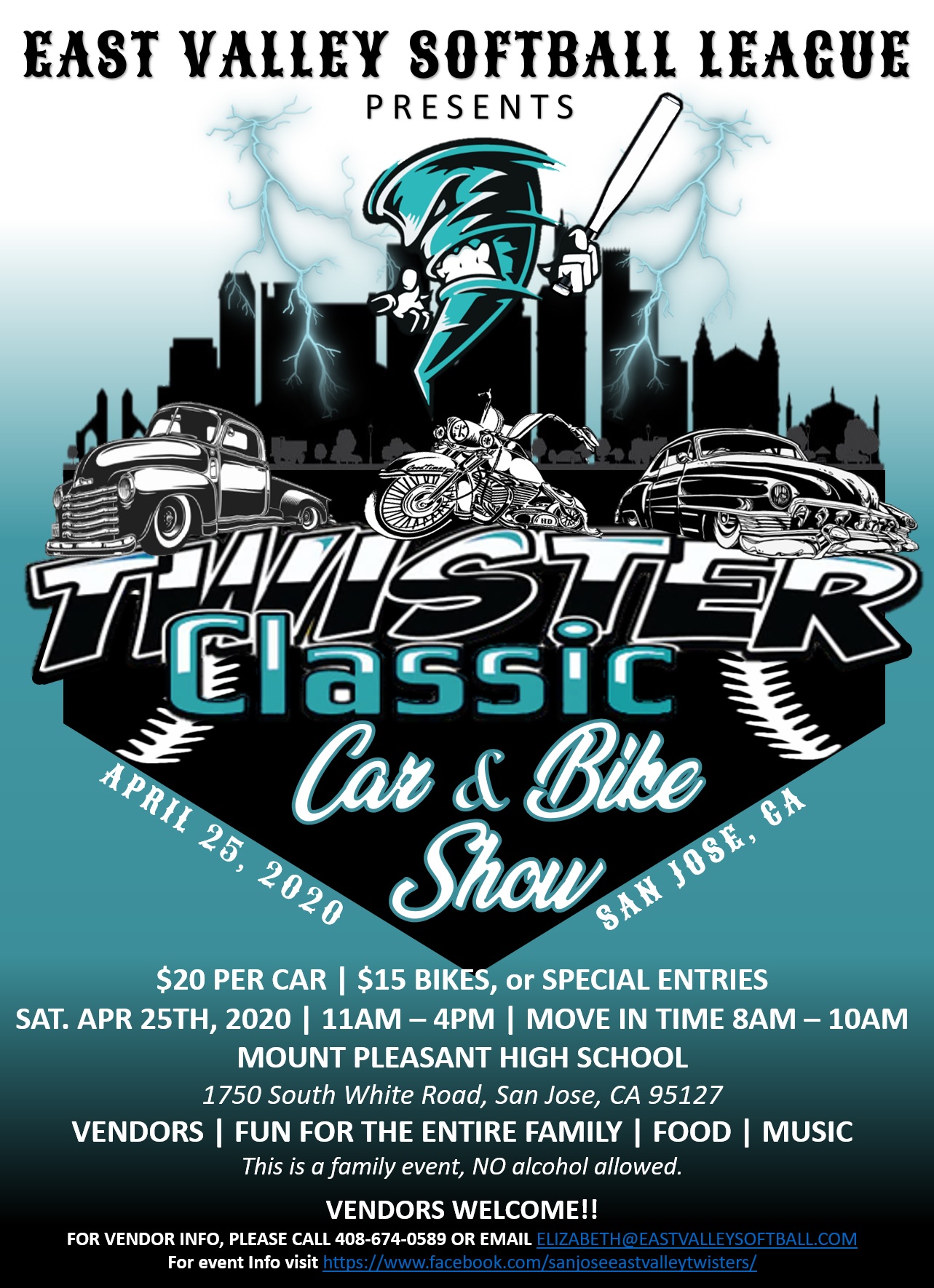 Mission Statement: East Valley Softball League is a non-profit organization for inner-city youth that is designed and dedicated to provide a positive outlet for young girls who wish to participate in competitive athletics. Our goal is to provide a fun and safe learning environment for the young girls of East San Jose through the game of softball. As always, we focus on positive sportsmanship, commitment and leadership on the field as well as off.



Want to play? Get in touch!
If you would like to join our league next season, sign up or contact us to find out more information.
Email
Benefits of playing at East Valley:

All ages and skill levels of experience welcome

Lighted Fields

Offer Late Practice times for working parents
All practices take place at Ocala Middle School/East ValleySoftball Fields 2800 Ocala Ave, San Jose, CA 95148

We offer the best experience around in both recreational and competitive Girls Fast-Pitch Softball in East San Jose.
Who We Are
We've been around for over 27 years and have built up an excellent program that offers one of the best Girls Softball Fast-Pitch experience at the best value.