Round Table Fundraiser & Picture Pick-up
TUESDAY, APRIL 24, 2018 at 5:00pm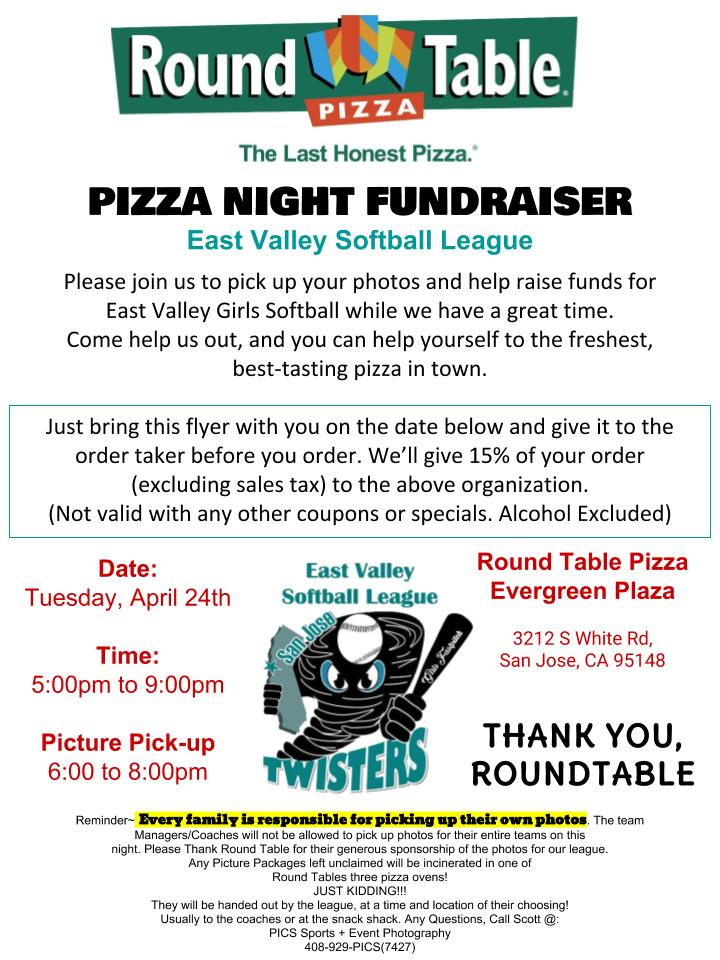 MARK YOUR CALENDARS TWISTERS
Summer Travel Ball is quickly approaching!
Tryouts will be held on Sunday, April 29th ? Tryout times for each division will be announced at a later date.
Each division will play up to 6 -7 Tournaments within the Bay Area. The  ESTIMATED cost ranges from $300.00 - $700.00 for all tournaments depending on division. 
Costs will cover player registration, insurance, tournament fees, uniform cost, and field fees.
Please note, some tournaments might require overnight stays, so travel costs and room/board will be the parent's responsibility.
PLEASE NOTE: Once your fees have been paid, there are  NO REFUNDS. All monies will have already went toward paying for all the tournaments and jersey order. 
Tournament fees are due up front once teams have been determined and tournaments have been selected so please plan accordingly.  
Also, equal participation WILL NOT BE part of this program. Every effort will be made to get each player a reasonable amount of playing time in each game, however, PLAYTIME IS NOT GUARANTEED.
If you have any questions in regards to the tryouts you can email Robert Navarro ( robert@eastvalleysoftball.com) or Victoria Garcia ( vgarcia@scu.edu)
PLEASE SAVE THE DATE 
Closing Ceremony ... Saturday, May 19th
More Details to follow
EASTER EGGS IN MAY???

East Valley Softball League is hosting an Easter Spring Fling. We will have some games, slides and jumpers for the kids. The snack shack will be selling hot-dogs, hamburgers, tri-tip sandwiches popcorn & cotton candy. 
Are you all ready to play some softball! Players bring your gloves, rip-its and bats, get ready to play a friendly scrimmage against your parents and coaches!!! 

Lastly, EVSL will be holding an Easter egg hunt on the field with 2200 candy filled eggs! Keep your eyes open for those golden eggs! You can also purchase $2.00 tickets for Face Painting and we will be selling $1.00 Raffle tickets!